If you are a casino lover and are coming to Wisconsin Dells to have a good time, Ho-Chunk Gaming in Baraboo should definitely be on your must-visit-list. Just like Noah's Ark Waterpark and Cascade Mountain, Ho-Chunk Gaming is a popular tourist attraction near The Dells, especially catering to casino fans. Tight on budget? No problem! There are some of the best hotels in Wisconsin Dells, which are minutes away from Ho-Chunk Gaming and offer cost-effective as well as comfortable accommodations.  Here are a few popular games that you can enjoy in Ho-Chunk Gaming-Wisconsin Dells-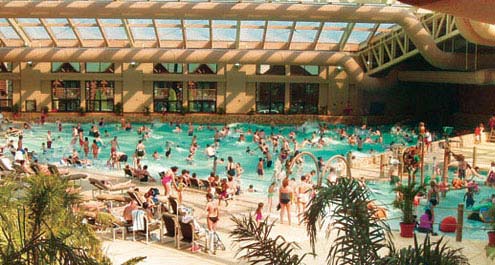 Blackjack - Whenever the word 'Casino' is mentioned, the first thing that comes to our minds is Blackjack. Undoubtedly, Blackjack is very popular casino card game and one of the tops featured games in Ho-Chunk Gaming- Wisconsin Dells. Ask a player and they will give you hundreds of reasons why they enjoy this game, many of which you'll hear over and over will be- "it is fun", "it is exciting", "it is easy to play", etc. One of the best things about Blackjack is that it is based not on luck alone, but skills. That means you have a fairly decent chance of winning. Also known as twenty-one, Blackjack is played with 1 to 7 players betting against the house, with the objective to draw cards as close to 21 without exceeding "21".  Blackjack variations in Ho-Chunk Gaming- Wisconsin Dells include 6-deck shoe games.
Craps - Craps is the world's most common dice game played in virtually every casino and online. It is a fast-paced game known to add energy and excitement to the gaming floor. Because craps have a low house advantage and there is a pure chance of winning, it is well-loved by a lot of players. Craps has several betting options, which can sometimes make the game seem a bit difficult and intimidating to a new player. But, the beauty of the game is- even total beginners can win if they're lucky enough. Once you gain a clear understanding of Craps, you will find it action-packed and very thrilling.
Three/Four Card Poker – Poker fans can enjoy Three/Four Card Poker- fast-paced and entertaining specialty games offered by Ho-Chunk Gaming. The Three card game features three ways to play and four ways to win. Players may bet against the dealer, on the value of their own hand, or both. In Four Card Poker, the player goes head-to-head with the dealer. To bet against the dealer, players make an Ante wager. The dealer will always qualify in Four Card Poker whereas dealer must qualify with a Queen high or better in Three Card.
Where to stay in Wisconsin Dells?
You can enjoy all the comforts of a premium hotel in Ramada Wisconsin Dells without worrying about the expensive price tag. Whether you're coming to the Dells for a business trip or adventure, you'll surely appreciate our wonderful guest service and time-saving amenities.
Book your rooms!