Every day we wake up to our routine schedules, a quick morning greeting, and quicker kiss goodbye as we go on with our days. The world is busy and will always be, but we can't let the busy bees kill the romance in the air! If you're longing for one of those candlelit, fine wine dinner dates, we have a superb location in mind for you! Let's chuck the everyday drill and flee to the Waterpark Capital of the World for a much-craved romantic getaway, away from the bustling city and hustling everyday routines.
Why the Dells?
Why not? Don't be fooled by the crown this place wears. House to multiple water theme parks, Wisconsin Dells might as well be the best kid's thrill vacation ever. But wait, let us tell you about the hidden gems that make the Dells a perfect romantic getaway for the two of you.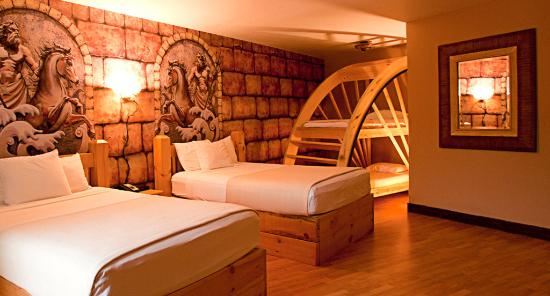 Exquisite Resorts Exclusively for You
Soaking in a hot tub with a bottle of bubbly on a chilly weekend evening with the person you adore the most sounds like a plan worth undertaking. The best part about breaking away from the everyday chain is to recline, relax, and for once not be bothered about office presentations and weekly grocery lists. Let's relive the old flaming romance with deluxe resorts giving you the "Live Life King Size" feels. From sauna baths to snug oversized rooms, from continental breakfasts on the house to sparkling indoor pools, from late-night movie binges on the flat-screen TV to enjoy a weekend BBQ on the outdoor patio - Wisconsin Dells Resorts are something, aren't they?
A Day Dedicated to Romance
If strolling hand-in-hand through the panoramic nature parks in Wisconsin Dells doesn't seal the deal for you, this next bit definitely will! How about a visit to the quaint little charming wineries around the Dells? Maybe kick the sweet-tooth craving by sharing an authentic Wisconsin Dells fudge?
A Night to Remember
Don't end the weekend rendezvous without a trip to the magnificent Palace Theatre. Before showing up, try to get hold of hotels near palace theatre so that a late-night visit to the classic Broadway musicals can help you conclude your perfect little romantic getaway. But what if a last-minute forgotten anniversary gift is in tow? Don't worry, the Dells got your back! If you've booked hotels near the outlet mall, you can sneak out for a quick bit and explore the endless options the Outlets have in store for you!
Are you packing your bags already?
If not, you definitely should. The rapidly progressive world leaves no time for romance, but sometimes, something as simple as a weekend getaway could be enough to rekindle the dying flame.